KOMPONISTEN A-Z ->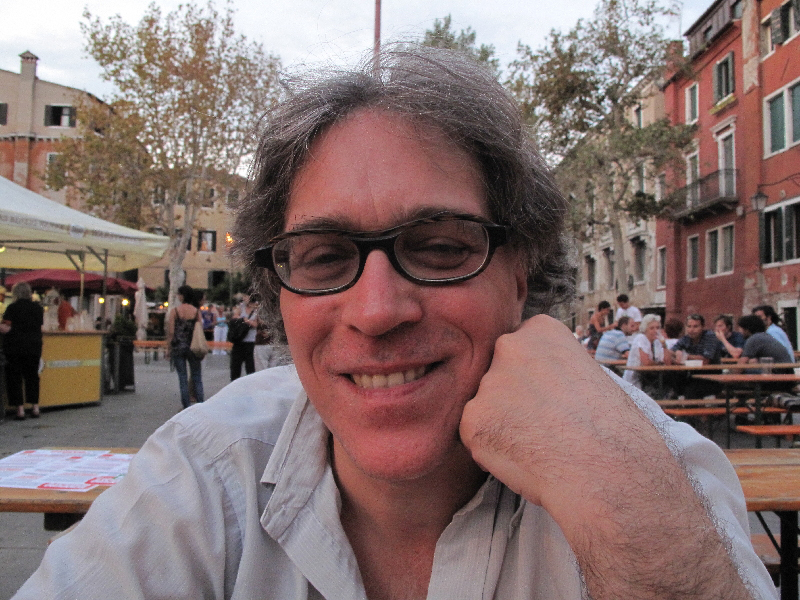 Jed Distler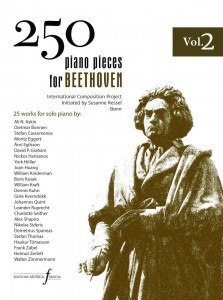 Vol. 2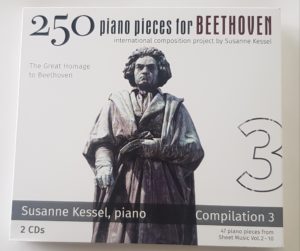 CD Compilation 3
Jed

Distler
(US)
– Birthday Bagatelle
 
> Die Notenedition Vol. 2 ist hier erhältlich: > SHOP
Jed Distler über sein piano piece "Birthday Bagatelle":
"I devised my twelve tone row F A C E-flat E G B-flat A-flat C-sharp D F-sharp and B from the keys of the sonatas in sequence: F is for No. 1 in F Minor, A is for No. 2 in A Major, C is for No. 3 in C Major, E-flat is for No. 4 in E-flat Major. However, because No. 5 is in C Minor, I can't repeat C! So we have to wait until the next sequential sonata in a new key…E is for No. 9 in A Major. And so forth. Since there are no Sonatas either in B Major or B Minor,  B is the row's last note. Obviously the opening bar reflects Op. 2 No 1's first measure. But the loud dotted chords are special for you, inspired by Diabelli Variation No. 13!"
Piano piece "Birthday Bagatelle" – Aufführungen
8. November 2015 – Uraufführung – Studio der Beethovenhalle, Bonn – Susanne Kessel, Klavier
7. Oktober 2018 – Schloß Raesfeld – Susanne Kessel, Klavier
Jed Distler (*1956)
Since moving to New York in 1978, Jed Distler has forged a singular, unusually multi-faceted composing career. He began studying composition at the Julliard Pre-College with Lawrence Widdoes and Andrew Thomas, and later as a Sarah Lawrence College undergraduate with Joel Spigelman and David Maslanka. Early experiences writing for small theater and dance groups played a key role in Jed's creative development, along with his more than twenty years serving as musical director and guest faculty member at Sarah Lawrence. In 1987 his first large-scale work, The Death of Lottie Shapiro (an evening length song cycle with four sopranos and piano featuring texts by his mother, the late Bette Feitelson Distler) was hailed by Michael Redmond in the Newark Star-Ledger as "as "a masterpiece, a song cycle without parallel in the serious music of contemporary America.
Jed's increasing visibility as a virtuoso performer led him to develop original pieces that involved speaking and playing the piano simultaneously. His works in this genre include 110 for 911 (2003) for speaking pianist and electronics, which incorporates the entire text of the collective poem Word Tower Two initiated by City Lore, curated by Bob Holman, and collectively written by 100 poets in the aftermath of the 9/11 attacks. Jed penned his own autobiographical texts for Assault on Pepper (1997), a deconstruction of the Beatles' Sgt. Pepper album. Jed's other noteworthy piano works with text include Anegada (1998) for pianist Kathleen Supove, a Duke Ellington centennial fantasy entitled Am I In Tune With The Piano? (1999), The Seduction of Commonplaces (2003) with texts by Hector Berlioz, and his magnum opus The Gold Standard (2007), a piano theater collaboration with playwright Ed Schmidt and director Arnold Barkus. In 2013 Jed's "Broken Record" for 175 keyboards was performed on Cornelia Street, and helped set the Guinness Book Record for world's largest keyboard ensemble.
In addition to commissions from Jenny Lin, Symphony Space, IonSound, the American Composers Forum and Song in Music, Jed's works have been recorded by Margaret Leng Tan, Guy Livingston, and Quattro Mani, among other New Music luminaries. His String Quartet No. 1 (the Mister Softee Variations) remains an annual summertime tradition on New York Public Radio. Current projects include a chamber opera Tools, in collaboration with writer Luigi Ballerini and artist Maria Scarpini, plus Country Music, an ongoing series of transcriptions, variation sets and paraphrases for solo piano based on every existing national anthem.
He has scored background music for NPR documentaries, airline boarding videos and cable television shows, composed special material for children's concerts at Lincoln Center, written string arrangements for the late songwriting legend P.F. Sloane, and published his own transcribed jazz piano solos by Art Tatum, Duke Ellington and Bill Evans. For Steinway & Sons, pianist Lara Downes recorded Jed's arrangement of Kurt Weill's Lost In The Stars plus the CD "A Billie Holiday Songbook" that features Jed's virtuoso arrangements based on songs associated with the legendary singer. Jed's most recent solo CD, Meditate with the Masters, released by Musical Concepts in 2011, contains soothing, relaxing original piano pieces based on familiar classical themes.
Colorado College, Denver University and the University of Nevada/Las Vegas have hosted Jed as a resident composer and guest teacher. In 2012 Jed's presenting organization ComposersCollaborative, inc. received an ASCAP Deems Taylor award in recognition for his long-running new music variety show Serial Underground held monthly at New York's landmark Cornelia Street Café.