KOMPONISTEN A-Z ->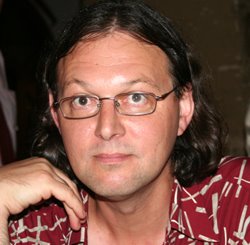 Barry L. Roshto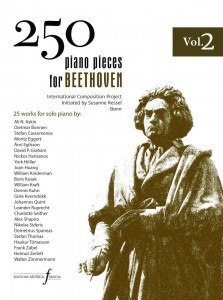 Vol. 2
Barry L.

Roshto
(US/DE)
– 250 250ths for 250th
     Notenedition Vol. 2 hier erhältlich: > SHOP
Barry L. Roshto über sein piano piece "250 250ths for 250th":
"This piece was inspired by the following joke: "Recently Beethoven was exhumed for the third time. He was found erasing all of his works. He was decomposing…" I applied the concept of "decomposition" to some of my own works several years ago, but only in a graphical sense.
As I was considering what to do for the project, I thought the decomposition idea could be applied in a broader, holistic sense to Beethoven's work I decided to use a reverse archaeological method. Instead of reconstructing an artefact from it's fragmants, I would start with the object and "decompose" it into fragments.
As the process of physical decay is governed by strict chemical and physical rules, I knew I had to use a process that avoided any randomness, producing fragments without any subjective manipulation. The reception "250 250ths for 250th", or whether these fragments can be connected by the listener to the original, is simpy a homoeopathic question. Can work for mone, maybe not for all. I only hope that what began as a joke does not end as one!"
Piano piece "250 250ths for 250th" – Aufführungen
26. April 2016 – Uraufführung – DPHG, Bonn – Susanne Kessel, Klavier
Barry L. Roshto
Born in Alexandria, Louisiana USA, 1958. After earning a BA in Church Music and a BMus in Composition, moved to Germany in 1982. Further studies include composition with the Bulgarian composer Bojidar Dimov in Cologne, musicology at the Rheinische Friedrichs-Wilhelms-Universität in Bonn, and a MMus (with Distinction) in Composing for New Media at London College of Music and Media (2002). Free-lance composer in multiple genres, concert organizer and media artist. Increasing interest in video control of media environments and the use interactive systems in educational applications. Teaches piano and composition at the Municipal Music School in Bonn.  Website Barry L. Roshto